The regulations

Small unmanned aircraft (SUA or 'Drones'), just like many other devices, can cause injury or damage if they are not used responsibly and so are subject to specific safety rules relating to the way they are operated, which are underpinned by UK law. The regulations are contained within the Air Navigation Order 2016 (ANO 2016) and there are some specific additional steps that must be taken if a drone is being flown for commercial operations.
As a general guide the key restrictions are:
> The drone must always be in direct sight
> Never fly more than 400ft (120m) above the surface, and stay well away from aircraft, airports and airfields.
> Never fly closer than 50m to people. Even when your drone is more than 50m away from people it is safer to avoid directly overflying them.
> Never fly closer than 50m to buildings, cars, trains or boats.
> Never fly closer than 150m to a crowd of 1,000 people or more. Never fly directly over a crowd.
> Never fly closer than 150m to built-up areas. Never fly directly over a built-up area.
> Never fly in an airport's flight restriction zone.
Here is a simple guide that can be useful.
If your production requires aerial filming, all of these issues can be assessed during a pre-production stage, to establish the best approach for the story or message we're trying to convey. Once an aerial shoot has been planned, a pre-deployment surgery will be carried out to establish the viability of the shoot. On completion, permissions can be gained from the relevant parties such as landowners, local authorities etc. (as you would do for any normal shoot) A further On-Site survey will then be carried out at the location, before any flights are carried out.
It's worth noting, if we're operating from a commercial site, we'll need 35 to 50m clear space to take off and land from, away from any 3rd parties.
Additional considerations
There are various regulations in place to ensure that the UK remains film-friendly. Below is an overview of regulations in the UK. It is not exhaustive, but covers some of the key areas.
Local authority
If you need to film on public land, we will need to check if we require permission from the appropriate local authority or council. They are responsible for public land, public buildings, roads and parking. If we are filming on a private site, they we just require the permission of the site owner, normally our client.
Police
We will need the full co-operation of the local police force if we plan to film on a public highway or use special effects. We would need to inform the local police force in writing of any planned filming within its jurisdiction.
Filming on public roads
Before filming on a public road we must contact the local police and the Highways Department of the local authority. Both will need to make sure that your plans are safe and pose no threat to road users. If we plan to stage stunts, a stunt co-ordinator should be involved in any planning discussions.
We will need details of the safety conditions covering any tracking vehicles we hire and also find out what permissions and rights clearances have been granted at the location.
Advice about permission and Rights clearances
If we film inside a store or restaurant, we need written permission to use the location and also to show the chain's name or trademark.
If we film outside a store or restaurant we do not need permission to show its name or trademark – however, if the location chosen is used to communicate a negative message in your film (for example, a film about 'poisoned restaurant food') we may risk legal proceedings.
We do not need to ask passers-by for permission to feature their faces in a film. Under UK law, the copyright of film shot in a public place resides with the filmmaker.
Whilst this can feel very complicated, we have many years of experience in this area and can carry out all of the required procedures, to ensure a safe and successful aerial shoot.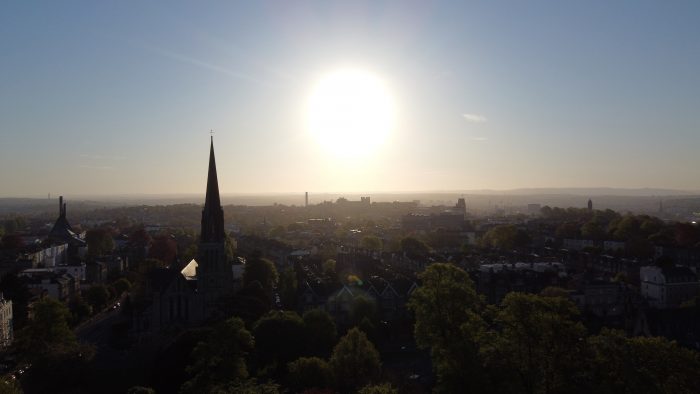 The regulations allow us to fly up to 400 feet high, and 50 meters from building not in our control. The new 4k cameras also offer a similar system to S-Log, for capturing a higher dynamic range of lighting conditions. This allows this type of shot to be possible.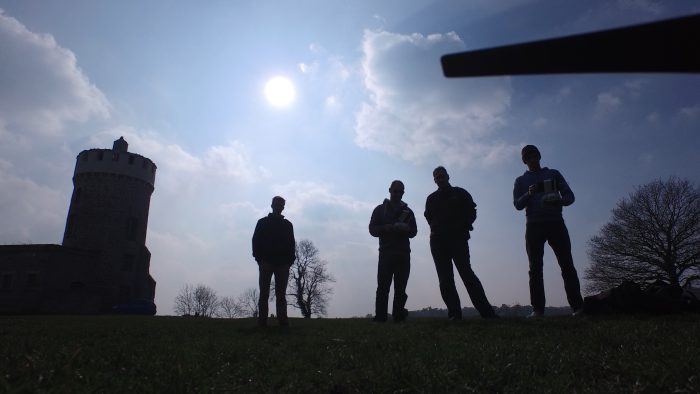 During the pandemic we're operating one person crews to comply with social distancing guidelines. Under normal conditions there would be an assistant, and we may also join a larger crew.
Some footage shot in the early hours, as the mist subsided.